Restaurateurs ou faussaires des primitifs flamands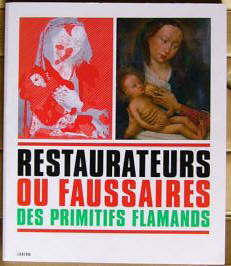 This is a catalogue(French text, Dutch versions issued,too) of an expositionn which held in Groeningen Museum in Brugge,2005. Even Frech text, I cannot stop reading it in Hotel. Two beutiful paintings attributed to Petrus Chistus impressed me. Most surface of the 'Annunciation' and 'Nativity' is not original but repainted. They lost most small angels and important faces of Maria and Gabriel and Josef. Groeningen Museum itself has them, and I appreciated them in 2001 autumn as standard , dated, signed works. In 2005 July, I felt a little "Trompe". In ' Primitive Flammands' by Dirk de Vos, author choises ' Nativity' in National Gallery in Washington , and doesn't take 'Nativity' in his home museum. Their condition should make it. On the restauration style, author supposes Jan van der Veken didn't. Another anonymus super-restaureur did them.
First Example of this bokk is a 'Annunciation' which is not famous and not so excellent work by amonymous XVe siecle. Comparing the PRE- reastauration photo, Jan van Veken scratched color layers he thought repainted. But, the part contains Angel's face and robe, Maria's face and robe, spirit pigeon,,etc.. If main part of old painting be thought as LATER REPAINTED, should resaurer remove them? Unless a restaurer will survage older painting under, the painting loses its value. If he creat and add 'beutiful images' on the removed part, it should become a contemporary fake. Old repainting has sometimes history of the painting, too.
When Nezu Museum(Tokyo, Japan) repaired the painting 'NATI WATERFALL'(14th century, color on silk), restaurator descovered the Central mainpart of Waterfall is adding silk. If he had removed the part, The painting would have be seriously damaged. He saved the part.
About Madonna and Child Christ on Frontcover, PRE-restauration photo already suggest heavily damaged and repainted status. Jan van Veken's restauration seems not so radical and destructive at the time, but I also feel removing old reapinted part was unnessesary. Recent people regard his fake crack-making technique needless, meanless, effort.
I mind he retouched and destructed the Great 'Madonna for Canoine van der Perle' by Jan van Eyk. If true, I want to re-restauration to appreciate more original masterpiece.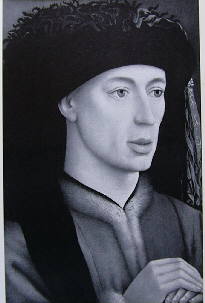 In Western Arts Museum, Tokyo, has a painting attributed to Rogier van der Weyden. The museum has not exhibited for many years, curator might regard this 'Young man portrait' fake. Dirk de Vos noted on the painting akin to Petrus Cristus on the style. When I observed it, The face and fingers have cracks, Cloth, Turbun, and backgroud have not. I feel the cracked part be original, but thinking technique of Jan van der Veken, I can doubt all. I hope the museum scientifical search on it, because it bought it by TAX from Wildenstein Gallery, and the director at that time passed over 20 years ago.
---
HOME RETURN