Ten interesting sites in Nara Area, Japan
by Reiji Yamashina yamashina@lycos.ne.jp
Introduction
Here, for art-lovers, I introduce some interesting sites in Nara-city and its outskirts ,in Japan. Some are relatively unknown. This Nara-area has many famous ancient temples, important museums, medieval city scenes, a large park, ancient ruins, and gardens. I select here sites which I was really impressed in 1998-2000.
1. Dai-jo-IN Garden.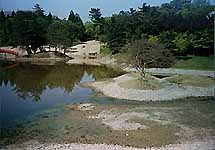 This 13,000 square meters area is a temple garden, 1st established in late Heian period (11-12th century), and improved in the late 15th century by ZEN-A-MI, the best gardener at that time.
In 1871-1878, the racist precusion destroied the noble construction of these temples. It has become ruined after Meiji era, but recently, NATIONAL-TRUST JAPAN got it, and is repairing it. Its repair will be completed until 2003. Now, we can appereciated the garden in "Garden-CULTURE-Center". This is a very comfortable and free center. It has two traditional japanese room in which sightseers rest and appreciate the splendid garden. As you see this picture, regrettfully it is in reconstructing. It will be completed until 2002. However, this scenery is attracive even now. OPEN 09:00-17:00, Monday closed, 12/26-1/5 closed.
I visited thrice this 12th century flavoured garden, and impressed every time.
In South part of Nara-city, Nara, Japan.
2. Ho-ryu-ji museum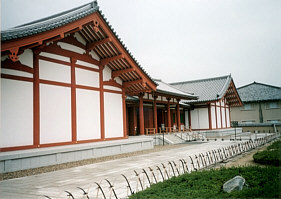 This ancient-looked museum was built in 1998. When the famous "Kudara Kannon"(colored wooden Avalokitisvara statue, 7th century) travelled to Paris, the goverment set the budget to built the new museum. Really the old temple museum was too dim and small to appreciate many tresures. I celebrated the renewal do many artifacts are under better lighting and glass case become better.
Among many temple museums in japan, the eldest artifacts inherited hand by hand are in this. Really, about third of japanese artifacts before 7th century are in this monastery.
In 1st gallery, many 7-8th century wooden sculptures must surprise connoisseurs. Amazingly, the 7th century large laquer-wooden shrine(maybe the oldest in japan) stands the center-back of the gallery. This TAMAMUSHI-ZUSI has several original large laquer paintings and many gilt bromze ornaments.
In the center hall, the Avalokiti wood (coloured and lacquered) image stands and attracts many visitors. A replica of this image was sent to British Museum for British Request in 1920s.
In the second gallery, a large wooden shrine stands. Many scholars think it late 7th-early 8th century, Some paintings survived on it. In the shrine, there is a Amidhaba buddha and attendants triad, whose backscreen is a tour de fos work of ancient japanese metalworks.
I wrote only some most amazing artifacts, so off many. I recommend to save at least 1 hour to appreciate this museum.
In Horyu-ji monastery, Ikaruga, Nara, japan.
OPEN DAYLY. 2/22-11/3: 08:00-17:00, 11/4-2/21:08:00-16:30
10 min by train from Nara-station, and got out in Horyu-ji station, and walk 15min. Autobus from Nara-station is available,too, but sometimes delayed.

3. Hokki-ji tower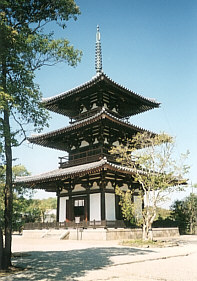 North-east 5km from the famous Horyu-ji monastery, this very small temple is among vegetable and flower farms. In AD706, this very beutiful wooden tower was built. 24m Height. Through centuries, it was repaired, but it has almost original features in AD706. This temple has only this tower as ancient architectures, but it is enough attractive to visit. The environment is very comfortable. The temple officers had hospitality.
In Hokki-ji temple, Ikaruga, Nara, japan.

4. Deer park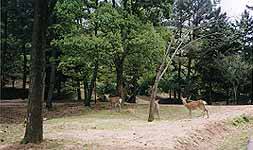 A large "Nara park" at the center of Nara-city. Originally, that was a buddhist temple area of Ko-fuku-ji, but after 1891, the local govorment got the estate and built the park. In 1891, the goverment left racists to destroy buddhist temples. After 15th century, Nara-city was a sightseeing city. Hence, citizens protected the load order of destruction and support the project for sightseeing income.
There are many deers feed by public. Old women sale deer-crackers in the park. I recommend you to buy and feed deers. Amazingly, deers don't steal crackers from womens, but they surround you, when you buy them.
Originally, Deer was regarded the symbol of deity of Kasuga-Shrine, and goverment fed and secured in Edo Period(1604-1868). In 16th century, "Deers in Nara" was listed in 8 famous scenaries of Nara. In a painting in 12th century, deers are signs to show ones should be near Nara-city.
This large park offer queit and comfortable time for shightseers and citizens. Peoples in Osaka and Kyoto sometimes visit this park in weekend.

5. Uki-Mi-DO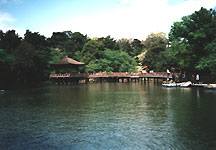 This pavillon was built in the large pond in southen part of Nara-Park. Parhaps, it may copy a buddhist pavillon in BIWA-lake in Siga perfecture. It hasn't any buddhist character, visiters can rest in this beutiful pavillon. Here is very comfortable space, but too pigeons live on the roof and dirt the pavillon. I hope the manager to eliminate the pigeons.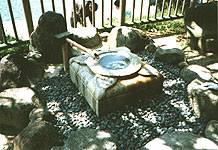 By the way, by the entrance road, an attaractive spot "SUI-KIN-KUTU"(the RIGHT) is. IT is a sort of musical instrument. Pouring water on the rock construction, one can listen beutiful natural mystic music from the underground. Some construction was built in underground, so that water drips sound in undergroud space like xylophone/ many puter bells. The sound is loud than expected, so that one need not take effort to hear.
In south part of Nara-Park, Nara-city, Nara, Japan

6. Guardian beast stone sculptures in Chinese Style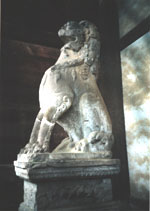 There are 2 large stone beasts in the SOUTH GATE of Todaiji which is famous for the biggest bronze buddha in Japan. All beginner sighseers should pass this gate.
In 13th century, when this gate was built, chinese sculptures made these beasts. Many chinese craftmen went to Japan, and worked in this temple in 13th century. Many scholars think sculptures of "I" family from Nin-Po made them. "I" family became japanese and floulished in 13th century. Many stone reliefs are made in 13th century, Nara. Several may be made by "I" family, and others were probably stimulated by them. The style is chinese Song dynaty sculptures. Rigorous and sharp character impress me. The base has some figure reliefs, which especially refrect chinese taste.
These beasts are in the backward of the gate and fenced, moreover the corner is dim. Although over ten thousands pass this gate by year, most sightseers overlook them.
In Todaiji temple, Nara-city, Nara, japan.

7. 12th century style garden in Nara Outskirt.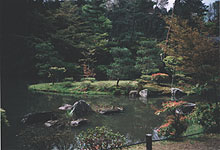 15km east from the center of Nara-city, in the narow valley, an old temple has this beutiful garden. This EN-JYO-JI temple was built in 12th century and then the garden should be built. Most architectures are re-built in medieval period(15-17th century). A national tresure buddha statue by the famous sculptor "UN-KEI" (13th century, KAMAKURA-period) is in this main hall. Two small shrine in this area are the oldest shrine construstions among such style small shrines(KASUGA-STYLE shrines).
I feel this garden should be more attractive. Comparing The DAI-JYO-IN garden, this is small and feels a miniature, but I cannot leave this garden for 1 hour. Refined scenaries and rock constructions, and a small island compose a good taste, although topographical problem restricts this garden. I heard that this garden was recently repaired/reconstructed, but this scenery lead me to 12th century world.
In YAGYU, Nara. 20min by AUTOBUS( this bus usually start at NARA Station, ONLY 4 TIMES by DAY). If you like walking, you should select your shoes for mountain roads.

8. Rock buddhist images in Valley.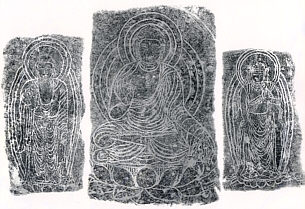 Between the former temple garden and the Nara-city, TAKISAKA road run among mountains. Near the road, in very small valley, noted two nitchs are. The Rock walls of These buddhist nitchs ( it is too small for "cave") some buddhist images are engraved(incised), painted, and gilt. It is not certain that these colors and gold be original, but the images impress visiters. Scholars think the date should be late 8th-early 9th century. Now deteroided iron net fenced the nitch, so visitors only appreciate through it. But I feel it is rather visible with Monocular, for outside is rather dim and the inside(cave/nitch) is, too. The incise lines of the central Buddha is especially deep and impressive, but not so fluent. This image might not be official donation, they haven't so refined characters and are robust. Or, painting and gilding do main character and the lines may be simply base/skelton.

Taki SAKA Road, EAST of Nara-city, in Valleys. Please prepare to hike.

9. I-SU-I-EN garden and Nei-RAKU museum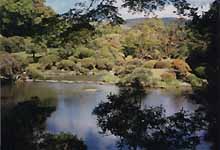 Near the To-dai-ji(I wrote in 6.),you can visit a beutiful garden with a small fine museum. That is I sui-EN. A marchant in 1xxx,made a part of the garden and Junsaku Nakamura( a businessman) bought and expanded the garden and built a small museum for his great collection. His collection of Chinese ancient bronze seals is one of representive collections in Japan. Korean celadons, chinese and japanese ceramics are fine. chinese rubbing made in Sung--Ching dynaaties are,too. In the wide and well maintained garden, sometimes tea ceremony party are done, the traditional costume ladies often pass the garden paths.
Near DAIBUTU-DEN, center of NARA-city.

10. Nara-mati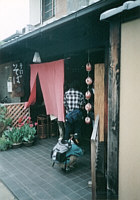 In Japan some areas consciously conserve the traditional scenary for sightseers and on its culutural values. That is a sort of OPEN-MUSEUM. M. XX wrote a in Orieantaions,nnnnnnn I note this NARA-machi in Nara-city. Many inhabitannts connserve the scenary and enhanced the movement. This photo is a common scene. Really a SOBA noodel restaurant front. The cloth balls hangings are amulets for fortune.