No Birds
UPDATE 2016, APRIL 9th, old ver.(2001, May, 8)
*** Please Crick an Image to show an enlarged image ***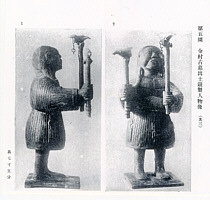 The Boston Bird Breeder( Damsel ) is famous among ancient chinese bronze figures in the world. Its date is thought before B.C.3th century. Someone wrote about Bird breeding and nomads in that ancient china. But, The jade birds are additives in 20th century.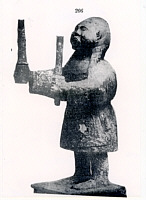 In 2000, I got "White, William Charles: TOMBS OF OLD LO-YANG. Shanghai, 1934.". Henry Trubner, a director of Seatle Museum had this book. The No.206, PLATE:LXXXIII is identical to Boston figure, but lacks both birds . The left cylinder top is low than the right, and a little short, controversery to recent condition. Mr. White should take a picture in 2 years after the excavation at Loyang-Chinp-sun. Dtr. Umehara wrote " One in White book may be another figure now lost", but patina shape on its apron is identical to Boston`s. The picture should be Boston figure. Carefully observing, long cylinder(Boston) slightly kinked at upper part. Probaly at this point add a cylinder and a jade bird. Another jade bird might be atouched to the original cylinder.
Mr. White wrote in this book:
Bronze figure of a damsel, standing on a square mat and holding a tube in each hand. Both hands were extended but not symmetrically, and in the tubes were two standard-like objects which had been broken off. One of standards was removable, but the other was immovable due to corrosion.
The damsel was clothed in a thick garment reaching below the knees, and fastened on the left sideBThe garment was no dout wadded as suggested by the quiting lines and seemd to have a short cape attached to the shoulders, which formed a pad at the chest. No cap was worn, and the hair was braided into two plaits wchich fell over the shoulders on each side. She wore ear-rings, and form a belt which encicled the waist there hung down on one side a knife in its sheath, and on the other what appeared a section of bamboo tube. On her feet were thick high-legged boots.
Height 9".
Probably, as similar figures, the cylinders may support light dishs or standards lost. The two standard-like objects in the tubes may be a pole for something (standard? light-dish?). This figure is very fine and its nomad character is very interesting, but it can mislead someone think it bird breeders.
Reference
White, William Charles: TOMBS OF OLD LO-YANG. Shanghai, 1934.
xxii, 177 pp. 1 pp. colour and 187 pp. b/w plates.
Museum of Fine Arts, Boston, Asiatic Arts, 1982
Sueji Umehara, Figures unerthed from OLD TOMBS OF LO-YANG Chin-sun, TO-YO BIJYUTU, No.23, July, 1936, ASUKA-EN,NARA