A painting in Taipei and Sho-so-In in Japan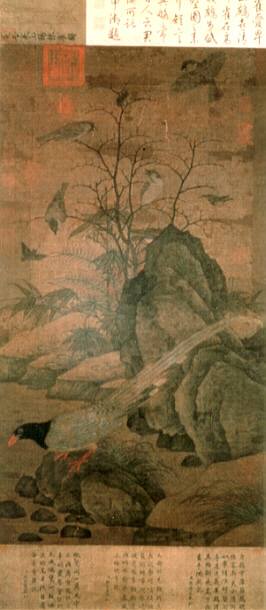 A painting attributed to Huang Chü-ts'ai(933-after 993), Sung Dynasty is in National Palace Museum, Taipei. The title is Blue Magpie and Thorny Shrubs : Hanging scroll, ink and color on silk, 97 x 53.6 cm.
Huang Chü-ts'ai was a native of Szechwan and the son of the famous bird-and-flower painter Huang Ch'üan. Their opulent works were noted for not only their decoration, but also detail and accuracy, making them suitable for court taste. Huang Ch'üan worked in the Court of Szechwan Kingdom(AD934-965). Huang Chü-ts'ai should work in the kingdom and Sung dynasty after AD965.
Now paintings before Sung dynasty is very rare excluding unearthed paintongs(murals, silk, papers). Most paintings( inherited hand by hand) in Collectors and Museums are after 11th century. This is actually 10th century painting?
Condition is poor. There are several large holes. Left rim was cut. Here and there, damaged parts are retouched. Complete sparrow is only one. Others lack body partly. The vermillion and black colour in the head of Blue Magpie might be re-painted.
Above it an 8-character inscription by Emperor Hui-tsung (r. 1101-1126) is atiuched: "Huang Chü-ts'ai Blue Magpie and Thorny Shrubs Sparrows" This inscription and seal seem genuine. This strange horizontal format of the title support the authenticity of writing by Emperor Hui-tsung. Emperor Hui-tsung himself is a connoisseur and a painter, moreover has talent staffs. This title strongly support the authenticity.
Unfortunately, This title is parted from the painting. His seal was partly cut, which originally linked the painting and the title inscription. Therefore, one can doubt that the inscription was moved from another painting.

Now I introduce another example. This suggests that the NPM painting should refrect later Tang dynasty trends.
In Sho-so-In Collection in Nara, Japan, Six panels of a screen survived. Magpie, rock, and shurubs, butterflies are mostly dyed and a little painted on the large silk. It was listed in "Kokka-tin-poh-cho"(AD756). As same as many artifacts in that period Japan, Tang dynasty art definitely influenced. This should be a direct-copy of Tang dynasty designs. This design surely likes the painting.
Sczewan kingdom preserved the culture of Tang dyansty. Many battalions destroyed the central area, many culture were escaped to province kingdoms. It is possible that Tang dybasty design as Sho-so-In panel was inherited in Sczewan court painters.
I think much possible the painting is the unique survived work by Huang Chü-ts'ai, although it was damaged and retouched.
REFERENCES
National Palace Museum, Choice Paintings of the Palace Museum, Rider's Digest Association Asia Limited, HongKong, 1981
Imperial Agency, "TO-EI-SYU-KO", vol.1, SIN-BI-SYOIN, Tokyo, 1908
---
HOME RETURN